Hand Blended Tobacco

Phone Orders:

716-675-6195




WNY's premier destination for Pipes, Tobacco and Cigars
---
All of our tobacco blends are made with 100% natural tobacco. We pride ourselves on using only the best quality products to create a completely unique and enjoyable smoking experience. If you don't see what you like, we can create your own personal blend just for you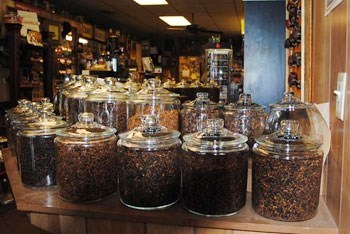 1. Brians' Blend - Our house blend.
Consists of rubbed out virginia cakes, steamed virginias & bright virginia flake. A very mild slow burning blend.
5.15 / oz

2. Seville
Our #1 seller, light and dark cavendish no bite extra mild.
4.50 / oz

3. Old Toby
Light and dark cavendish with a pinch of golden virginia flake. No bite a great all day smoke.
4.50 / oz

4. French Vanilla
A pleasant blend of virginia, burley and vanilla cavendish.
4.50 / oz

5. Distinction
Smooth nut flavored light cavendish mixture.
5.15 / oz

6. Moontrance
One of our most popular blends! Outstanding aroma, no bite of cavendish and virginias cased with our special
honey vanillla flavoring.
5.15 / oz

7. Vermont Maple
Extremely mild blend of light and dark virginias and cavendish topped with our special vermont maple flavoring.
5.15 / oz

8. Monarch
Outstanding aroma no bite blend of light and dark virginias, cavendish and a pinch of golden virginia flake.
A great blend for the new smoker!
4.50 / oz

9. Swiss Delight
Experience a taste of switzerland with this mild blend of virginia, burley and cavendish topped with our swiss
​chocolate casing. (A favorite of the ladies!)
5.15 / oz

10. After Hours
A mixture of mild slow burning burley's.
4.50 / oz

11. Golden Viking
A rich golden bright cavendish.
4.50 / oz

12. Union Square
A non aromatic blend with golden and dark virginias, burley and maryland. Exceptionally slow even burning.
5.15 / oz

13. Black Cherry
Great aromatic blend created with virginia, maryland, burley and toasted cavendish with a delicious energy casing.
4.50 / oz

14. Dixie Blend
Experience the south with this medium blend of virginias and cavendish with a sweet aromatic taste.
4.50 / oz

15. Rum & Maple
A classic burley blend flavored with rum and maple.
4.50 / oz

16. Leprechaun Gold
One of our top sellers! Rich natural cavendish blended with steamed virginias.
4.50 / oz

17. Private Stock
Virginia, burley and dark cavendish with a hint of maple, a full flavored smoke.
4.50 / oz

18. Meditation
Steamed virginias, cavendish and burley with a rich cherry casing. Very sweet and aromatic.
4.50 / oz

19. Midnight Express
Steamed black virginias, one of our most popular.
4.50 / oz

20. Night Queen
Dark steamed virginias and a touch of golden virginia flake. A exceptionally light smoke.
4.50 / oz

21. Tarkus
Steamed virginias, light and dark cavendish. Very mild and smooth.
4.50 / oz

22. Sweet Briar
A full bodied aromatic with a sweet light aroma.
4.50 / oz

23. Rum Cake
Black Cavendish, virginia, burley and bright flake lightly flavored with rum.
4.50 / oz

24. Mystique
A unique blend of black fire cured and sweet virginias topped with a delicious cordial flavoring.
4.50 / oz

25. Casino
Virginias, maryland and burleys with a pinch of amarretto, smooth pleasant aroma.
4.50 / oz

26. Supreme
Dark cavendish accents. Cherry vanilla blend.
4.50 / oz

27. Appalachia
A full flavored aromatic, rich sweet aroma allented with a cherry flavoring.
4.50 / oz

28. Peaches and Cream
The name says it all! Virginia, burley and a touch of toasted cavendish flavored with peaches and cream.
4.50 / oz

29. 10 Downing Street
A full bodied english with bright virginias, latakia, perique.
5.50 / oz

30. Mountain Leaf
Smooth slow burning blend with lite no bite taste, made with virginia, latakia and a touch of toasted cavendish.
5.15 / oz

31. African Queen
A unique english blend consisting of virginia, smyrna, latakia and mozambique.
5.15 / oz

32. Lord Nelson
Smooth light english blended with african, turkish, latakia and virginia ribbon.
5.15 / oz


---
Flavored Blends - All flavored blends are made with a mixture of the finest virginias, burleys and maryland tobaccos.
Almondine
Mango
Cherry
Red Wine
Vanilla
Maple
---
​QUANTITY DISCOUNT
​

Purchase 4oz - 7oz receive 10% Off
Purchase 8oz - 15oz receive 15% Off
Purchase 16oz & Over receive 20% Off
Purchases made from out of state will have the NYS Tobacco tax discounted from their order.
---
​
By Federal Law you must be 18 years or older to make any selections on these pages - by selecting any products on our site, you are confirming that you are of legal age to purchase the tobacco products or smoking accessories that we have available.
​
We reserve the right to deny any order we believe has been placed by a minor under the age of 18.
---
​
WARNING:
Smoker's Haven of the Southtowns does not sell tobacco or tobacco related products to anyone under the age of 18, nor do we sell cigarettes.